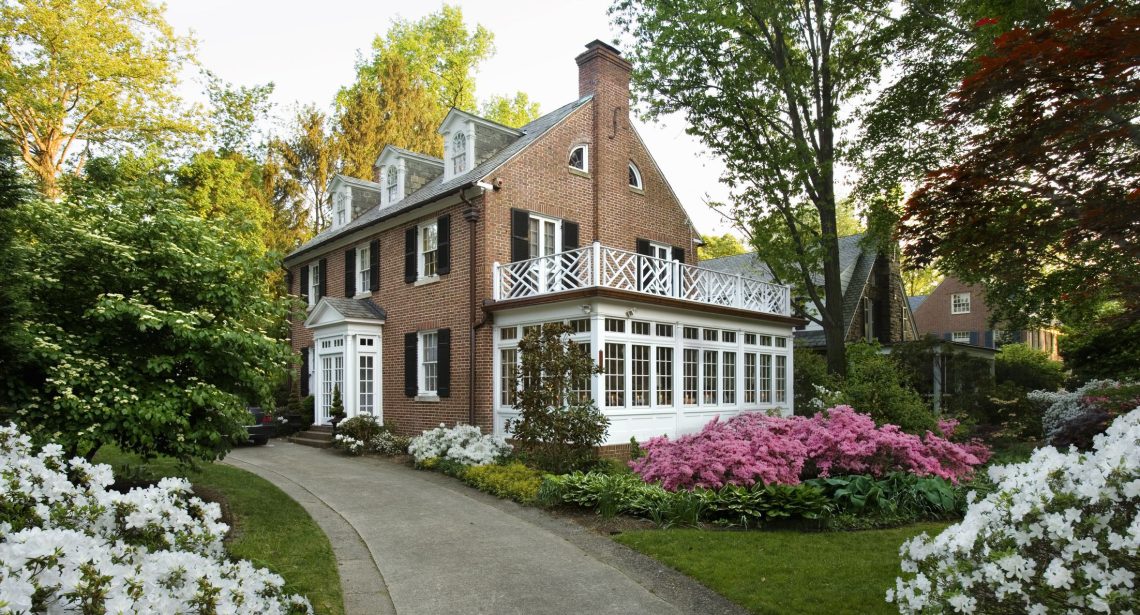 Interior Design For Colonial Style Homes
Colonial style houses feature simple, yet sophisticated décor elements. Keeping these classic interior decorative pieces in good condition can make a big difference in maintaining a colonial-style home's aesthetic.
Colonial-style homes usually feature an on-center entryway, which emphasizes symmetry and offers practical layout options. They often have a single row of windows on the ground level, with rooms on either side.
Natural Elements
Colonial home decor draws from a variety of adjacent styles, including farmhouse, country and rustic. These styles share a similar emphasis on natural elements and handcrafted items. To create a colonial style look, use natural wood materials and simple patterns that highlight the craftsmanship of the furniture.
Rattan, wicker and sisal are popular materials for woven furniture. Soft colors like peaches, pale blues and greens can add a soft, welcoming feel to the home. Dark browns and stony grays are often used in Colonial style homes because these were the colors easiest to obtain during the early colonial period.
Brass and copper accessories are common in Colonial home design because these materials were easily available during the early colonial era. Wall sconces and lanterns that mimic old-fashioned light fixtures add an authentic colonial touch to any room. Choose decorations that reflect your interests and personal style for a unique Colonial-style décor. For example, display framed maps of the world and antique knick-knacks to create a home that feels familiar but also unique to you.
Quilts & Blankets
Colonial-era settlers sought comfort and warmth in their home decor. They favored natural elements, such as wood and woven materials. They also incorporated primitive folk art pieces. These rustic pieces were often sanded and painted with soft colors for a smooth surface.
Embroidered fabrics were common for colonial home decorating. Ivory and grays were popular choices for embroidered accents. Floral motifs and simple geometric patterns were frequently found on rugs and draperies. Quilts were not yet an American phenomenon in colonial times, but they quickly became a popular choice for colonial homes.
To create a more authentic-looking room, avoid wall-to-wall carpeting. Wide plank hardwood floors are an ideal option for a 17th-century aesthetic, according to HomeTips. Pair these with jute, sisal and wool area rugs featuring floral or whimsical designs. To complete the look, add a high-post bed with a canopy, like a tester or a tent canopy popular in colonial times. These beds were designed with an upper framework to hold lace or other bed hangings, which were a hallmark of colonial design.
Wood
Colonial homes often feature wood floors and furniture. Stick with natural stains on wood pieces, or paint them in neutral colors. Use area rugs to add texture, but avoid wall-to-wall carpeting. Choose low-profile rugs in classic patterns like floral or simpler geometric shapes.
When it comes to wall colors, soft chalky whites are key in colonial design. This contrasts well with dark timber paneling, white billowing drapes and rich dark brown shutters for great tonal variation.
Since colonial style decor emphasizes simplicity, you want to avoid anything too busy on the walls. Choose neutral shades to make sure that your colonial house looks authentic and true to the period. However, if you'd like to add a bit of color, consider using Chintz or Priscilla fabric. This polished cotton was often woven with flowery designs or brighter colors and was used as curtains, upholstery and bedding in colonial homes. A framed map of a favorite road trip or vacation is also an excellent addition to a colonial house.
Crown Moldings
Colonial crown moldings are a classic way to accent the beauty of your home. They are also a great way to smooth the transition from walls to ceilings. However, it is important to remember that the appearance of crown moldings will depend on how they are installed. Taking your time to inspect and test the pieces will help you to catch mistakes before you permanently install them.
In addition to molding, the Colonial style typically includes wood door casings and wainscoting. This adds a beautiful accent to any room and can tie your whole design together.
This traditional Colonial home features white trim and crown molding in the living rooms, dining room and kitchen. It also has a soaker tub in the primary bathroom and plenty of extra storage space in the cabinets. This home is a perfect example of how Colonial influence can be updated and modernized to fit today's lifestyles. It also shows how traditional designs can blend well with open-concept living spaces.