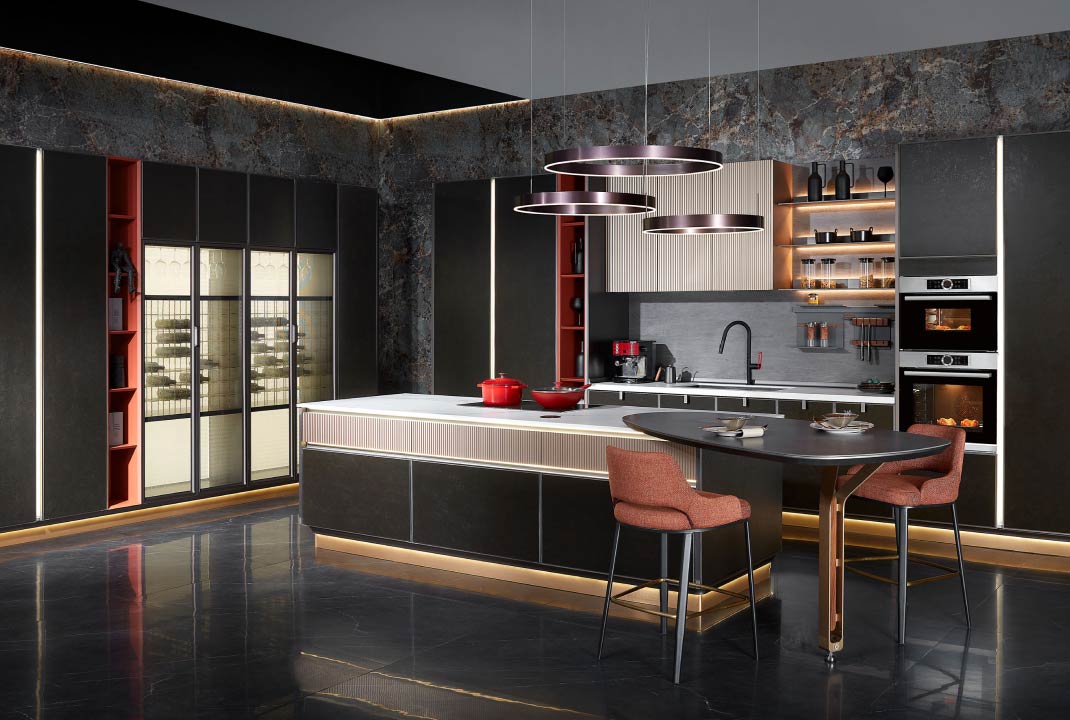 Trends in Luxury Modern Kitchens in Canada
Luxury modern kitchens in Canada are taking a cue from European designs and using contrasting rich textures. This includes a trend to replace stainless steel appliances with warm woods and finishes.
When paired with white or off-white high gloss (glossy) lacquer, this style of cabinetry makes a minimal modern kitchen feel substantial and luxurious. Adding thick side panels, wall fillers and top soffit/filler to the design help achieve this look.
1. Modern White and Medium Brown Kitchen Cabinets
Whether you have an existing kitchen or you are planning to install new one, brown cabinets can be a great addition. Not only do they add a touch of elegance, but they also complement a variety of colors.
Modern white and medium brown kitchen cabinets are often preferred by homeowners who want to add a modern, luxurious look. These kitchens are designed to showcase a contemporary style that blends the best of both old and new trends in modern design.
One of the most popular ways to update the look of your brown kitchen is to swap out cabinet knobs and pulls with chrome or brass hardware. This gives your cabinets a sleeker, more modern look without sacrificing the durability or functionality that you need in your kitchen.
Another way to make your dark brown kitchen cabinets appear fresh and modern is to incorporate white or gray floor finishes. This will reflect natural light and make your space seem larger.
2. Country-Style Grey Kitchen Cabinets
Grey is a popular choice among homeowners and interior designers because it provides an excellent contrast to the variety of color options available for your countertop materials, backsplash designs and appliance finishes. It also hides dirt and stains.
When used in a modern kitchen, gray cabinets can give the space a sophisticated and elegant look. Moreover, they can be easily styled in a variety of ways.
The best way to dress up a gray kitchen is by adding gold hardware. It's an affordable and trendy way to add a touch of luxury to the design without breaking the bank.
If you want to add some warmth to your country-style kitchen, choose wood accents. These wood pieces can have a red or orange undertone that evokes a rustic, cabin-like feel.
You can also use yellow to inject some sunshine into a dark grey kitchen. This will make the space more lively and fun.
3. Modern Two-Toned Kitchen Cabinets
Two-toned kitchen cabinets are a great way to add contrast to your space. They're also a design trick that can help your kitchen look larger, increasing its resale value.
Choosing a color combo for two-tone cabinets is important, especially if you're trying to balance light and dark shades. For instance, a sunny yellow and pale buttercream hue could be paired for a pop of color without overwhelming the room.
Another great choice for two-toned cabinetry is a neutral pair, like warm white and gray. These colors can be paired with any style and make the most of the space's light and dark tones.
Another two-toned kitchen option is to choose darker wood for the island and lighter natural wood for the rest of the cabinets. This creates a level of symmetry to ground the island and balance the overall appearance of the room.
4. Modern Frameless Kitchen Cabinets
Frameless cabinets are the latest trend in kitchen design, and they offer a sleek look that's ideal for modern and minimalistic aesthetics. They also come in a wide range of door styles, from slab to raised panel, shaker, and more.
One of the best things about frameless cabinets is that they offer plenty of storage space without making your kitchen look cluttered. This is especially helpful when you have large appliances like juicers or pasta-makers that you need to store out of the way.
Another reason that many homeowners prefer frameless cabinets is that they're more accessible than traditional cabinetry. This means that it's easier for you to reach into the space and stock your shelves, which is crucial when you have a busy lifestyle.
The only downside to frameless cabinets is that they may not fit all of your specific needs, but that's usually a small price to pay for a beautiful, minimalistic kitchen. If you're considering a modern kitchen remodel in Canada, contact us today to learn more about frameless cabinetry!