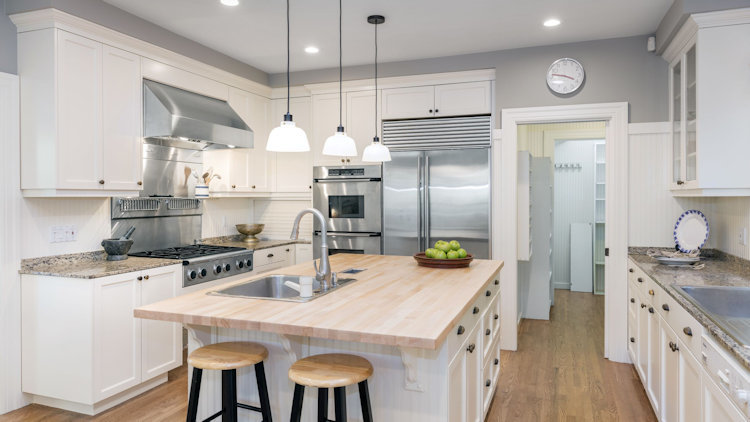 How to Create a Luxury Kitchen
High-end kitchens are designed to be functional and stylish, incorporating the latest design trends while maintaining a luxury vibe. They typically combine elegant finishes, top-of-the-line appliances and high-tech features to make the most of space.
Custom cabinetry is a hallmark of a luxury kitchen, featuring durable hardware with expert interior construction. Many homeowners opt for hidden appliances that blend seamlessly into the cabinets.
Custom Shelving
Custom shelving is an excellent way to organize your home and add a sense of style. It can also increase the resale value of your home when you sell it.
Shelving is an easy and inexpensive way to bring order into your home. It can be used in your pantry, reach-in closet, kitchen, garage, and other areas.
If you have a large book collection, a custom built-in bookshelf can be an excellent option. You can use it to display your favorite titles or just beautifully store them.
This clever design incorporates birch tree trimmings with lumber planks to create the perfect shelf for displaying books, plants, or other decor items. Those galvanized metal pipes deliver the sturdy support needed to hold those wooden planks, and you can attach hooks to them for added storage.
Unique Lighting
Lighting is a big part of making your kitchen unique and stylish. The right lights can transform your space into an inviting, entertaining place that you and your family will love spending time in.
To achieve that look, it's important to understand how to layer different types of lighting in your kitchen. Using task, ambient and accent lighting can create a kitchen with the perfect amount of light.
For example, pendant lights over a kitchen island or wall sconces above shelving can be a great way to add an eye-catching touch to your space. But if you want to be extra bold, try using asymmetrical or contrasting styles in your kitchen lighting scheme.
Multiple Sources of Lighting
The kitchen is a great place to add multiple lighting sources. These can be ambient lights, task lighting or accent lighting to enhance the design.
The most important aspect of your lighting scheme is to balance these light sources so that the space has an even glow. Your general lighting should be a cooler-toned light that reflects daylight, while your task and accent lighting should be brighter to highlight the area being used.
To ensure your kitchen has the best possible illumination, hire a designer who will be able to recommend the most appropriate lighting sources for your design. They will also be able to create a cohesive lighting scheme that blends into the space and complements your existing furniture, art and flooring.
Stemware
Stemware is a must in a luxury kitchen, as it helps you serve wine correctly and adds to the overall ambiance of your space. This is especially true when it comes to high-end glassware from brands like Riedel and Nachtmann. The most important component of stemware is the bowl, which should be large enough to comfortably swirl your wine and narrow enough at the top to capture aromas.
The stem is also important to the functioning of the glass, as it helps keep your hand from warming the wine and prevents fingerprints from contaminating the glass. However, if you're looking for something that's both fashionable and practical, consider investing in a set of stemless glasses from Riedel. These glasses are easy to hold, clean and store, and they can fit in most dishwashers.
Open Shelving
Open shelving is a great way to show off beautiful pieces. It allows you to showcase your crockery, dishes, and glassware without having to hide them away behind a door or cabinet.
Designer Stacy Lewis says, "Open shelving in a kitchen is the perfect spot to display your finest tableware. It's also a great place to showcase your favorite pottery or even an expensive bottle of wine."
In addition to displaying decorative items, shelving is a wonderful way to introduce a new accent color into a kitchen. A rich blue water glass or a copper mug can add a pop of personality and interest to your kitchen space, regardless of your decor style.
Keep in mind that your shelf arrangement needs to work well with the rest of your kitchen décor. You'll want to vary the height of the items you have on display so that your eye moves up and down.