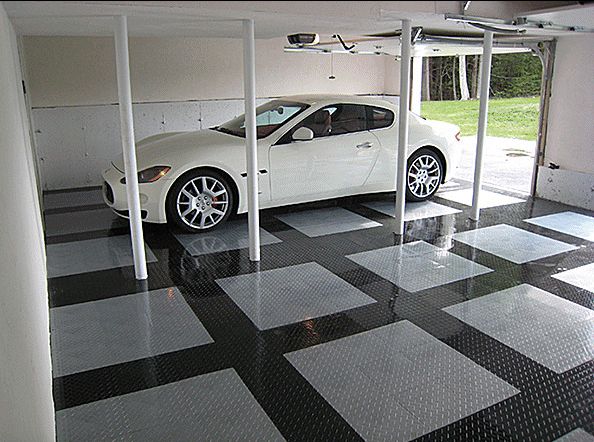 Exploring the World of Garage Floor Tiles and Their Transformational Impact
Let's face it: the garage is often overlooked, that is, unless you love to work on their vehicle or use your garage as a workshop or spare room. If you've been thinking of ways to improve the look and feel of your garage, it's hard to beat garage floor tiles. 
There is no shortage of aesthetically pleasing garage flooring tiles, so finding a style to elevate your space is a breeze. They come in a wide range of sizes, colors, and patterns. Plus, it's an easy DIY project, so there's no need to hire someone to do it.
Adding garage flooring tiles does more than make your space more comfortable and better looking — upgrading the look and feel of your garage adds curb appeal, and if you ever sell your home, you may increase interest if you have an attractive and functional garage. 
Should You Upgrade Your Floor with Garage Flooring Tiles?
Suppose you don't spend a lot of time in your garage. How do you know if it's time for an upgrade and garage transformation? Even if you just use your garage to park your car and enter your home, there are visible signs that your garage floor is in bad shape. 
The following are tell-tale signs that you should upgrade your garage floor:
There are unsightly stains that can't be removed

The concrete is peeling or flaking

There are visible cracks 

The floor is discolored

It looks tired and old
Of course, you can also use an epoxy coating on the garage floor. Epoxy coatings can brighten up a space, but they aren't as user-friendly as garage tiles. In fact, if you choose to apply an epoxy coating, your best bet is to hire a professional to avoid costly mistakes. Should you use tiles in the garage? The short answer is yes. After all, you have more creative freedom with garage tiles — you can create a custom design that takes your home to new heights! 
How Can I Do a Complete Garage Transformation with Garage Tiles?
One of the great things about using garage flooring tiles is that you can mix and match colors. Create a classic checkerboard look using black and white, red and black, or colors of your liking. If you're using the garage to store luxury cars, you and your guests will appreciate walking on non-slip garage floor tiles. Plus, many garage tiles are soft and comfortable to walk on. Of course, they keep dirt and debris off the bottom of shoes, which may also help keep your home's interior rooms clean.
Before you begin the project, make a flooring plan. For example, will you use garage tiles to create a parking pad? Do you want to cover the garage with floor tiles from wall to wall? Stand outside, look inside the garage, and imagine what it will look like with garage floor tiles. 
What Garage Flooring Tile Should You Use?
Garage tiles come in a wide range of textures. Coin-textured tiles are an excellent choice if you use rolling cabinets and creepers regularly. Do you plan to show off your garage once it's transformed? Diamond patterned tiles have that show-stopping look, so they're an excellent choice for a "man cave" or entertainment room. You can also go with a ribbed textured garage floor tile, ensuring your floors stay clean and dry. 
You'll also want to consider whether you want to use PVC or rigid polypropylene tiles. Rigid tiles offer better stain resistance and have that classic straight-edge look that is ideal for creating a checkerboard pattern. 
No matter your style, interlocking garage tiles are a breeze to install. If one of the tiles is damaged, you can remove and replace it quickly and easily. 
Start Your Garage Transformation Today!
Garage flooring doesn't have to be boring. With proper planning and suitable tiles, you can easily make your garage stand out from the rest. Spruce up the look and feel of your garage with garage floor tiles — you may create your new favorite room!