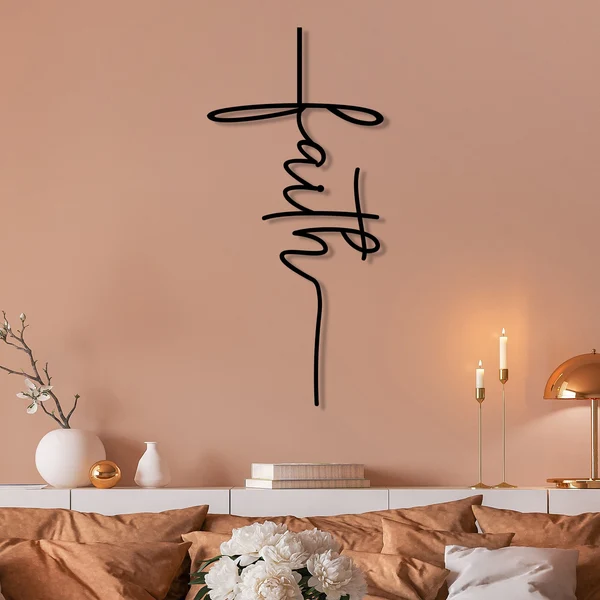 Enhancing Your Space with Christian Decor: Ideas and Inspiration
When it comes to decorating your home, your personal faith and beliefs can play a significant role in creating a warm and inviting atmosphere. Christian decor not only reflects your faith but also serves as a source of inspiration and a reminder of the values that matter most. In this article, we'll explore various aspects of Christian decor and provide you with ideas and inspiration for different areas of your home.
Christian Bedroom Decor
To choose bedding and linens that feature Christian symbols or verses, you can search for specialty Christian home decor stores or browse online retailers that offer a wide range of options. Look for bedspreads, sheets, or pillowcases with embroidered verses, crosses, or other Christian motifs.
Displaying framed Bible verses or Christian artwork in the bedroom can create a serene atmosphere. Consider hanging a canvas print of your favorite scripture above the bed or placing framed verses on your nightstand or dresser.
When creating a serene Christian bedroom ambiance, consider soft and calming colors such as light blues, soft greens, or earth tones. These colors can help you relax and connect with your faith.
Christian Kitchen Decor
Christian-themed kitchenware and utensils can be found in Christian home decor stores, online marketplaces, or specialty retailers. Look for items like Christian-themed mugs, dishware, and utensils with Bible verses or religious imagery.
To incorporate scripture or religious symbols in your kitchen's design, consider adding decorative wall decals, backsplash tiles, or even customized kitchen cabinetry with etched or engraved Christian motifs.
Christian-themed kitchen wall art and decor options can be discovered in online marketplaces, Christian home decor stores, and even through local artisans. Explore options like canvas prints, wooden signs, and decorative plaques.
Modern Christian Decor
Modern Christian decor trends for 2023 may include minimalistic designs with subtle Christian symbolism, contemporary artwork with abstract religious themes, and modern wall decals that combine style and faith.
Achieve a contemporary look with Christian decor by selecting items that incorporate clean lines, neutral colors, and modern materials like glass, metal, or acrylic. Balance modern aesthetics with timeless Christian symbols and verses.
You can find modern Christian decor pieces online by browsing e-commerce platforms, specialty Christian decor stores, and through independent artists and designers who offer their creations on their websites or online marketplaces.
Christian Decor Ideas
DIY Christian decor projects can include crafting your own scripture-inspired wall art, customizing furniture with Christian motifs, or repurposing everyday items into unique Christian decor pieces.
To incorporate Christian decor without overwhelming the space, choose a few key pieces that hold personal significance to you, such as a favorite Bible verse or an artwork that resonates with your faith.
Create a cohesive and harmonious look with Christian decor throughout your home by selecting a unifying color palette, focusing on a specific theme or style, and balancing bold statements with subtle accents.
Christian Decor Online
The best online platforms and stores for a wide selection of Christian decor include well-known e-commerce websites like Amazon, Etsy, Wayfair, and specialty Christian decor retailers. These platforms offer a vast array of products to choose from.
To ensure the quality and authenticity of Christian decor products when shopping online, read customer reviews, check product descriptions, and verify the seller's reputation. It's also advisable to look for products that offer satisfaction guarantees or return policies.
When finding unique Christian decor items online, explore the work of independent artists, artisans, and crafters who often sell their creations through online marketplaces like Etsy. This can lead to one-of-a-kind and personalized pieces.
Christian Decor for the Living Room
Create a Christian-themed focal point in your living room by placing a large cross or an inspirational piece of artwork on a prominent wall. Make it a central conversation piece.
Blend Christian decor with your existing furniture and color scheme by selecting decor items that complement the room's design and color palette. For example, choose decor that harmonizes with your sofa or curtains.
Christian wall art and inspirational quotes in the living room can be positioned in a way that draws attention. Framed scripture verses or artwork with uplifting messages can serve as a constant source of inspiration.
Christian Home Decor Store
Christian home decor stores can be found in various regions, often specializing in items that reflect faith and spirituality. Local Christian bookstores or religious supply stores may carry a selection of Christian decor.
When shopping at a Christian home decor store, expect to find a diverse range of products, including wall art, home accents, and religious gifts. These stores cater to individuals looking to infuse their homes with Christian values.
Supporting local artisans and businesses while finding unique Christian decor pieces can be accomplished by shopping at smaller, locally-owned Christian home decor stores or purchasing directly from local craftsmen who create handmade Christian decor items.
Christian Decor Near Me
To search for Christian decor stores near your location, you can use search engines, business directories, or apps like Google Maps. Simply enter keywords like "Christian decor stores near me" to find relevant results.
When looking for recommendations and reviews when shopping locally, consider using online review platforms, social media groups, or asking for recommendations from friends and family who may have experience with local Christian decor stores.
Visiting physical stores to see and feel Christian decor items before purchasing allows you to assess the quality and aesthetic appeal of the products, ensuring they meet your expectations.
Christian Home Decor on Amazon
Finding and choosing Christian decor items on Amazon involves using the search bar and entering keywords like "Christian home decor." You'll discover a vast selection of products, including wall art, home accents, and decorative items.
When shopping for Christian decor on Amazon, read product reviews and ratings to gauge the quality and authenticity of the items. Choose products with high ratings and positive feedback from other customers.
Online shopping on platforms like Amazon offers convenience, a wide selection of products, and the ability to browse and compare different options from the comfort of your home.
Christian Decor Store
All-in-one Christian decor stores often offer a comprehensive range of products related to Christian home decor, including wall art, kitchenware, bedding, and more. These stores cater to individuals seeking a diverse selection of Christian decor.
When navigating a Christian decor store, expect to find sections or categories dedicated to different types of decor, making it easier to explore and choose items that align with your style and preferences.
Shopping at specialty stores dedicated to Christian home decor allows you to explore a curated collection of items that reflect your faith, ensuring that you find products that resonate with your beliefs.
External Link: home motivated
Now that you've explored these questions and topics related to Christian decor, you're well-equipped to transform your home into a reflection of your faith and values. Whether you're seeking traditional, modern, or unique Christian decor items, there are countless options available to suit your taste and style.
Remember that your Christian decor choices not only beautify your living space but also serve as a source of daily inspiration and a reminder of the enduring importance of faith in your life. Whether it's a simple Bible verse on the wall or an intricately crafted Christian-themed artwork, your decor choices can enhance your home and strengthen your connection to your beliefs.
Incorporating Christian decor is a powerful way to infuse your living space with the spirit of Christianity and make your home a place of warmth, comfort, and spiritual nourishment.