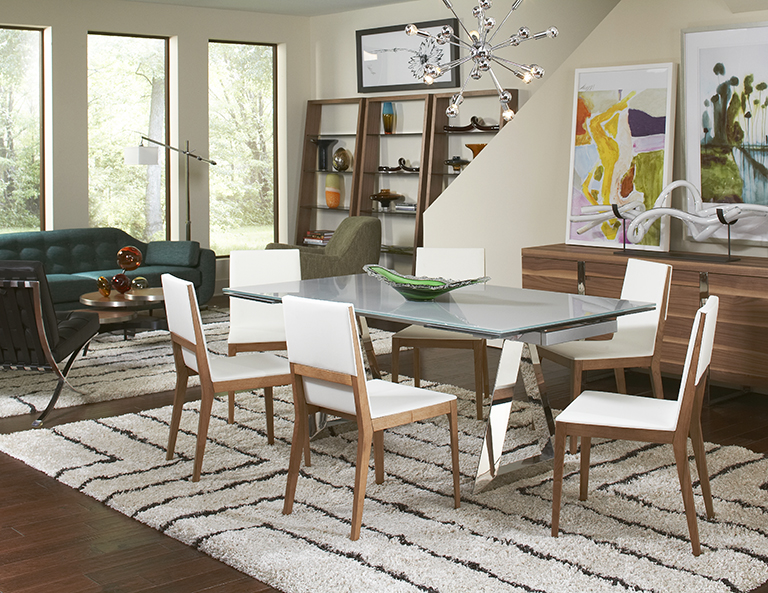 Dining Tables for Your Space, A Guide to Choosing the Perfect Fit
When it comes to home decor and interior design, the dining area holds a special place. It's where family and friends gather to share meals, conversations, and create lasting memories. Central to this space is the dining table, a piece of furniture that not only serves a functional purpose but also contributes significantly to the aesthetics of your dining room. In this article, we will explore various aspects of dining tables, from 6-seater decoration ideas to dining room furniture ideas and the allure of dining tables with glass tops.
Dining Table 6 Seater Decoration Ideas
Your dining table plays a crucial role in setting the tone for your dining area. Whether you have a small space or a spacious dining room, there are creative ways to decorate a 6-seater dining table that can enhance the overall ambiance. Here are some ideas to consider:
1. Table Centerpiece:
A striking centerpiece can be a game-changer. Consider a vase of fresh flowers, a bowl of seasonal fruits, or a collection of elegant candles.
2. Table Linens:
Experiment with tablecloths, placemats, and table runners to add color and texture. Coordinate them with the seasons or your overall interior design theme.
3. Tableware:
Invest in quality dinnerware and cutlery. Mix and match styles to create a unique and visually appealing table setting.
4. Lighting:
The right lighting can create a warm and inviting atmosphere. Consider a chandelier or pendant light above the table.
5. Artwork:
Hang artwork on the wall behind the dining table to create a focal point.
These decoration ideas can help you make the most of your 6-seater dining table and create an inviting space for your family and guests.
Dining Room Furniture Ideas
Choosing the right dining table is just the beginning. To complete the look of your dining room, you'll need the perfect dining room furniture. Here are some ideas to consider:
1. Dining Chairs:
Select dining chairs that are not only comfortable but also complement your dining table. Mix and match styles for an eclectic look or go for a uniform set for a more traditional feel.
2. Sideboard or Buffet:
Consider adding a sideboard or buffet to store dining essentials and display decorative items. It can also serve as an additional surface for serving dishes during gatherings.
3. Bar Cart:
A bar cart is a trendy addition to modern dining rooms. It's a versatile piece that can hold beverages and barware, adding a touch of sophistication to your space.
4. Display Cabinets:
Showcase your fine china, glassware, or collectibles in elegant display cabinets. These not only add storage but also serve as a design element.
5. Rugs:
A well-chosen rug can define the dining area within an open floor plan and add warmth and comfort underfoot.
Dining Table with Glass Top
Dining tables come in various materials, and one popular option is the glass-top dining table. Glass tables offer a contemporary and airy look that can make your dining space feel more spacious and modern. Here's why you might consider a dining table with a glass top:
Visual Space: The transparent nature of glass makes it ideal for smaller dining rooms. It gives the illusion of more space, making the room feel less crowded.
Easy Maintenance: Glass tabletops are easy to clean and maintain. Spills can be wiped away with minimal effort.
Versatility: Glass pairs well with various chair styles and dining room themes, making it a versatile choice.
Reflective Qualities: Glass tables reflect light, which can brighten up your dining area and make it feel more inviting.
Contemporary Aesthetics: If you're aiming for a modern and sleek look, a glass-top dining table is an excellent choice.
Now that you have a better understanding of how to decorate your 6-seater dining table, ideas for complementary dining room furniture, and the appeal of glass-top dining tables, you can make an informed choice for your dining area.
For more inspiration and home decor ideas, visit home motivated, where you'll find a wealth of information to help you create the perfect dining space and enhance the overall beauty of your home.
In conclusion, your dining table is more than just a piece of furniture; it's the heart of your dining area. Choose wisely, decorate creatively, and surround it with the right dining room furniture to create a space that reflects your style and provides a warm welcome to all who gather around it.