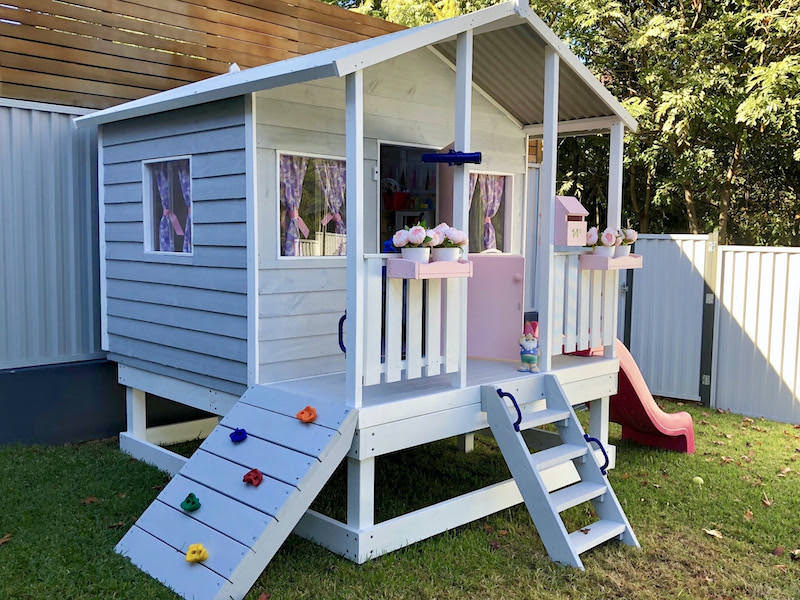 Buying Cubby Houses Online
Kids love to play, and a cubby house is the perfect way to encourage them to do so. They help develop their imaginations and can also make a wonderful addition to the garden.
Cottage cubbies resemble a small wooden houses and come with doors, windows and more. They're ideal for indoor or outdoor play and can be painted any colour your child likes.
Safety
While kids will always get injured when they play outside, you can reduce the risk of serious injuries by buying a cubby house that is strong. Look for a cubby that is made up of sturdy materials and can withstand the harsh Australian climate, including hectic heat, rain and even cyclones. You should also make sure that the cubby is painted with a high-quality color that resists nature.
When choosing a cubby house maker, it is important to choose someone who has a good portfolio and experience in making them. A good way to do this is by reading reviews online or asking around. You should also consider their personality and the cost of their services.
Lifespan Kids has a range of cute cubby houses that are perfect for Australian backyards. Their Warrigal Cubby House features a timber roof, rock climbing wall, chalkboard, Noughts and Crosses XOXO game and safe plastic windows. It comes with a wide verandah and is one of their best-selling products. It is also available in yellow or green and is one of the most affordable options on the market.
Design
When kids have their own little space, they are able to unleash their imaginations and play away. It's no wonder that cubby houses are making a comeback, as parents see the value of encouraging children to spend more time outdoors and be creative. They are also great for reducing kids' ever-increasing screen time.
Cubby houses can come in all shapes and sizes, but they are always designed with safety in mind. Most are made from non-toxic materials, which means that children can safely play in them. They are also sanded down and coated with water-based paint, so they won't splinter or cause abrasions to the skin.
If you're looking for a safe and durable cubby house, check out the range of designs available online. These are backed by safety standards and feature features like rock climbing walls, a pegboard wall for painting and a noughts-and-crosses spinning tile wall. Some even have a slide and a ball pit beneath, which helps children get active. Others are more modern in design, such as the Cloud Climb by Fridcorp & Luxe Property, which has a weather tex and plywood cladding that blends with natural surroundings.
Materials
Cubbies are great for encouraging children to engage in outdoor play. They help kids to socialize with siblings and friends and are also an excellent way for children to exercise and use their imaginations. Cubbies are made from a variety of materials and are designed to suit different children's needs. They can be customized to include features like slides, swings and climbing features.
Most cubbies are made from sturdy, weather-resistant materials. They are also designed to meet Australian safety standards. Most are easy to assemble. They usually come with a comprehensive instruction manual and are suitable for children of all ages.
The best cubby houses are made from durable materials and painted in fun colors that reflect your child's personality. For example, blue cubbies are a good choice for boys while pink ones are perfect for girls. Also, remember to include chairs or stools in the cubby house so your kid can sit and relax after playing for long periods of time. You can even add a sand pit near the cubby house to make it more interesting for your kid.
Personality
Cubby houses are a great way to encourage children to play together. Boys often enjoy the climbing features and girls tend to love playing kitchens and hosting pretend tea parties. It's a great way to get the kids out of the lounge room and into the fresh air.
When kids play together they learn many important social skills, such as cooperation, fairness, communication and more. They also learn to read verbal and non-verbal communication cues like facial expressions, gestures and body language. This helps them manage their emotions and respond appropriately.
If you're looking for a fun and engaging way to get your kids outdoors, consider buying a cubby house online. It will help them build their imagination and provide a whimsical escape. They can use it as a clinic for their stuffed animals, a shop or even a pirate ship.
Price
If you're shopping for a cubby house online, keep in mind that these structures are intended to last a long time. That's why it's important to buy one that's made of high-quality materials. It's also a good idea to look for a company that offers assembly services. These companies are well-versed in the construction of safety tested cubby houses and can help you get your child's dream playhouse up and running in no time.
Cubby houses encourage kids to engage in unstructured play, which is a great way to develop their creativity and storytelling skills. It's also a great way to spend some time away from digital devices, which are known to have negative effects on children.
In addition to a cubby house, you can also buy outdoor toys like animal-themed spring rockers or swing sets that will add a fun dimension to your child's outdoor play. All of these toys require physical movement, which helps your kid to become more flexible and healthy than if they simply sat inside the house watching television.